Captain Crabby's Dungeness Pie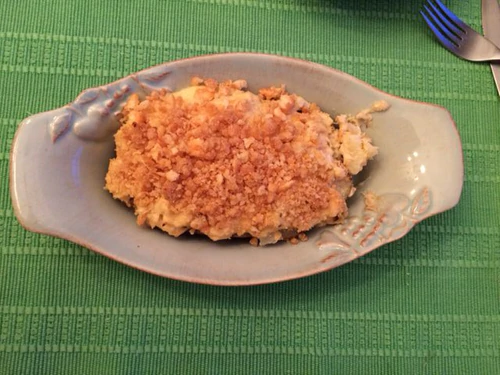 Ingredients:
4 tablespoons butter juice from crab
1 pounds Dungeness crab meat
4 tablespoons of butter
2 tablespoons of flour
1 tablespoon of fresh lemon juice
1 cup of Half and Half
1 1/2 cups crushed Ritz crackers
2 Egg yolks, beaten
2 russet potatoes
1/3 cup medium-dry sherry
1 tablespoon parsley
Directions - Filling:
Cook the potatoes whole, in the microwave and set aside.
Drain crab and reserve juice (if any).
Pre-heat oven to 425F regular bake.
Melt 2T butter in a saucepan, add sherry and boil 1 minute. Add drained crab, stir and remove from heat.
In a saucepan, melt 2T butter. Add flour, cook and stir until mixture bubbles.
Remove from heat.
Drain and reserve a sherry mixture from crab meat.
Slowly stir reserved sherry and Half and Half into flour mixture until thoroughly blended. Return to heat and cook, stirring constantly until sauce is smooth and moderately thick (adjust with Half and Half or mix in cornstarch if necessary).
Spoon approximately 4 times of the sauce into a small bowl.
Add beaten egg yolks, 1 tablespoon at a time, stirring well after each addition. Return this mixture to the sauce and mix well. Stir over low heat from about 3 minutes. DO NOT ALLOW TO BOIL.
Remove from heat and add to crab.
Directions - Topping:
Melt butter in a pan. Stir in lemon juice. Remove from heat
Stir in crushed crackers and any reserved juice from crab so the mix is moist.
Finishing.
Cut baked potatoes in half lengthwise and scoop out center leaving about 1/2 inch inside the peel.
Place each potato 1/2 in an individual serving dish. Oval ramekin
works good.
Pour crab sauce into and over each potato to fill the ramekin.
Spread topping evenly on each dish and bake at 425 F for about 10 minus until top begins to brown. Don't overcook.!
Garnish with parsley and lemon slices if desired.