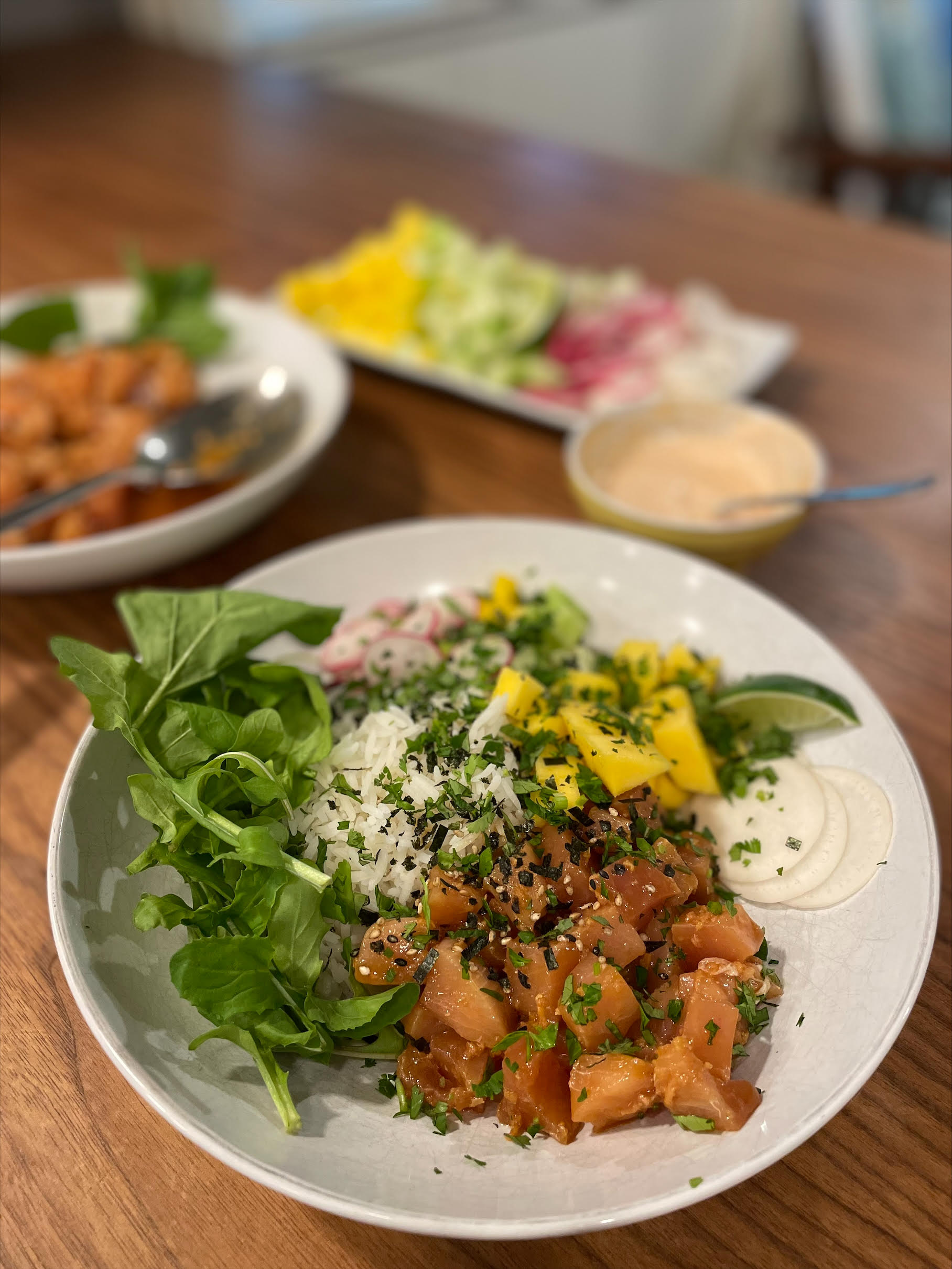 Albacore Tuna Poké Bowls
Recipe by: Nécole King
As we head into summer…allegedly, it's hard to believe given our recent weather…these Poké Bowls are the perfect recipe to have up your sleeve. With barely any cooking required, minimal prep time, and stunningly fresh ingredients, you can put off preparing dinner in favor of spending as long as possible outdoors, making the most of our elusive Pacific Northwest sunshine.  
Please treat the ingredients list as the barest of suggestions. Use up those spring greens in the veggie drawer, sub rice noodles or brown rice for sticky rice, or throw in that beautiful peach you scored at the farmer's market. Food always tastes best at its peak, when sourced close to home. With just a bit of flexibility and a sense of adventure, you may discover a hitherto unknown-to-you flavor combination, destined to become a family favorite. Trust yourself, and have fun.
INGREDIENTS – serves 4
Whidbey Seafood's Pacific Albacore Tuna Loin – approx. 1 lb, thawed (Ideally, if at all humanly possible, there might be just a smidge of freeze left to the fish, to make cutting easier. No worries if it's completely thawed. We all have lives, and cannot be hanging around, watching a tuna loin defrost. I get you.)

White Rice – jasmine, Calrose, or sushi rice – 1 ½ cups uncooked and thoroughly rinsed

1 ½ tsp sea salt, or kosher salt (for rice)

Selection of veggies and fruits – avocado, cucumber, and mango are traditional, but experiment based on what is available and fresh: spicy baby greens – arugula, mizuna, mustard, etc., thinly shaved radish or hakurei turnips, watermelon, cantaloupe, peach – aim for roughly 1 heaped handful of fruits and veggies per serving

Garnish – pickled ginger, furikake, seaweed salad, sesame seeds, microgreens or sprouts, wasabi, thin strips of nori seaweed, cilantro, green onions

Mayonnaise – 2 or 3 TBS

Sriracha – to taste

Lemon, lime, or rice vinegar
Marinade 
Tamari, or soy sauce - 1/3 cup 

Sesame Oil – 2 TBS

Lime or Lemon- zest and juice of 1

Fresh ginger – roughly 1 TBS grated (or 3/4 tsp dried)

Sriracha – to taste
Method
First, prepare your rice, according to your preferred method. I love my rice cooker, because I have nothing to do once I press start, and can focus on the rest of the meal while the gadget does its magic. Do not skip the rinsing step, this rids the rice of excess starch, resulting in fluffy, separate grains, rather than a pile of unappetizing, mushy rice. Be sure to add your salt to the water, as it flavors the rice as it cooks. I've found nearly equal parts rice and water are best (in this case, 1 ½ cups rice, to 1 ½ cups plus 2 TBS water.
While the rice cooks, whisk all your marinade ingredients together. Leave to let the flavors meld.
Next, make a sriracha mayo, by stirring sriracha (amount to taste), into mayo, and adding a TBS or so of lemon, lime, or rice vinegar.
Prepare your veggies, and fruits. Aim for similarly shaped and sized bites, or to complement the shape of the veg. A radish or tender baby carrot loves to be sliced exceedingly thinly on a mandolin, while cucumbers and avocados are best cubed. Plate them attractively, squeeze a bit of lime or lemon, or shake a teaspoon (or so) of rice vinegar over all, then refrigerate until ready to serve.
Slice your tuna loin. Using a hopefully very sharp knife, slice into approximately 1/2 -3/4 inch cubes. If it's not perfect, remember: While you are making restaurant quality food, nobody is going to judge if there's a wonky piece of fish in there. Just do your best. I find it helpful to trim off the thinnest bits of the loin, slice those as evenly as I can, then move on to the now uniform remainder of tuna. 
Ready your garnishes: thinly slicing green onions, finely mincing cilantro and/or mint, as well as placing out furikake, sesame seeds, and any other delights you're serving.
No more than 30 minutes, but at least 10 minutes before serving, toss the fish in the marinade, and refrigerate.
Once the rice finishes cooking, off the heat, fluff the rice with a rice paddle or fork, cover the pot with a thin cotton tea towel, then replace the lid. Leave for about 10 minutes. The towel absorbs excess moisture from the rice, leaving you with the lightest, fluffiest rice you can imagine.
Once the rice is ready, and the fish has marinated, set everything out, along with your garnishes and large bowls. This is family style food: everyone makes their own bowl, according to their tastes.
Enjoy! And remember: House Rule: the chef does not do the dishes. Especially when you've served up a meal this delicious.
About the author: Nécole has lived on South Whidbey for the past ten years, somewhat settled after years traveling and living around the globe. She spent those years soaking up the culture, the spirit, and the food in idylls she was fortunate to call home: Southern Portugal, the UK, and New Zealand, among them. Ultimately, Nécole was drawn back to her native Pacific Northwest, where she delights in reframing tasty, yet deceptively simple recipes learned overseas, making the most of the bounty of our PNW produce and seafood.