Creamy Smoked Salmon Spinach Twists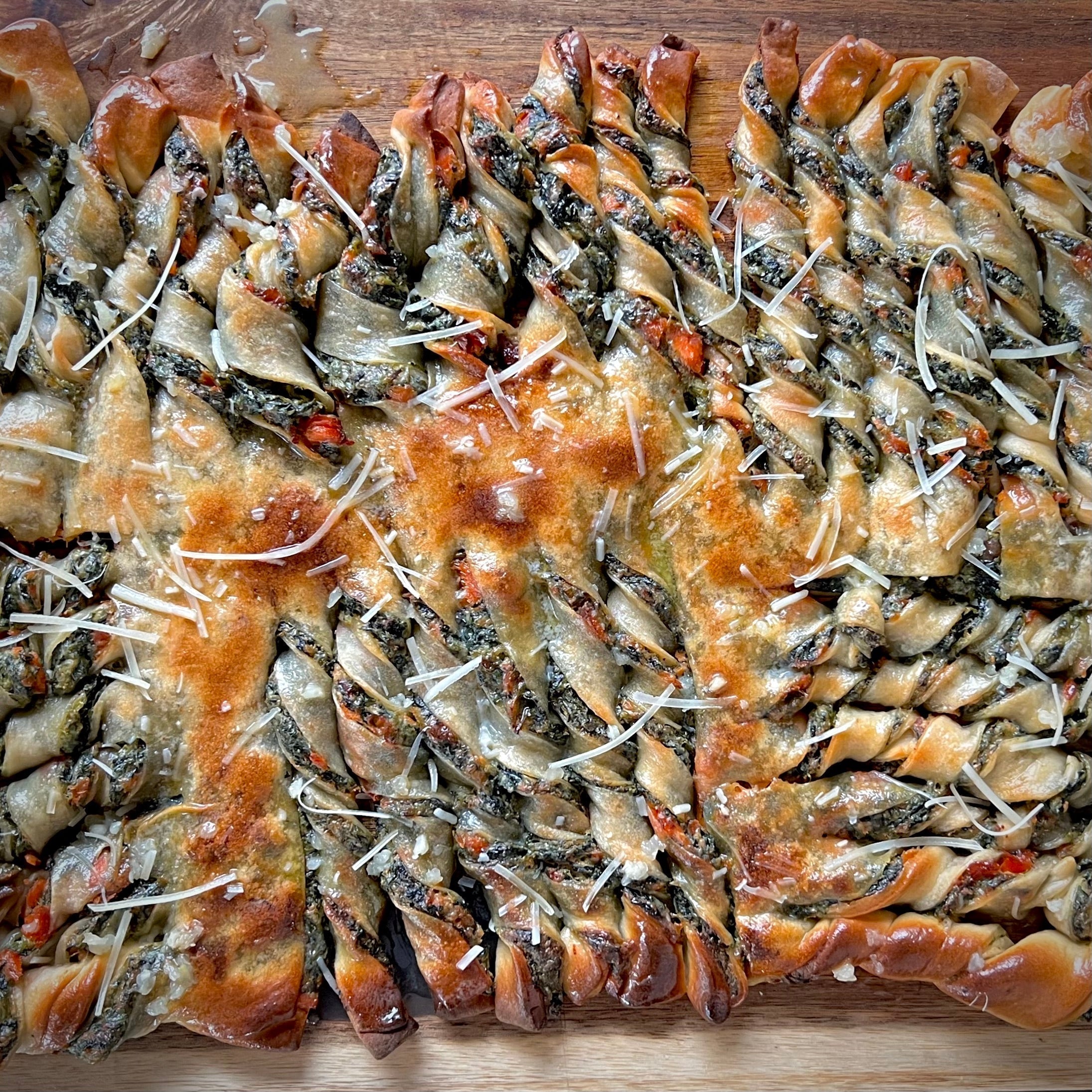 Prepare to never want another appetizer again! 
Indulge in the irresistible flavors of our Smoked Salmon Twisted Breadsticks. These delectable treats feature our renowned smoked salmon from our very own smokehouse. Imagine the perfect combination of tender smoked salmon, creamy cream cheese, and flavorful spinach - the only thing that could make this better is pizza dough ;)  Whether you're hosting a gathering or looking for a delightful snack, our Smoked Salmon Twisted Breadsticks are sure to impress. So, preheat your oven, get creative with the twisting, and savor the mouthwatering taste of this unique culinary delight.
Ingredients
4-6 oz Smoked salmon, crumbled

1 tube Crust pizza crust, refrigerated

10-12 oz Frozen Spinach

8 oz Cream cheese

3/4 cup Parmesan cheese, grated

4-6 Garlic Cloves*

1/2 tsp Onion powder

1/4 tsp Chili powder

1 1/2 tsp Italian seasoning

1/4 tsp Pepper

1/2 tsp Salt

3 tbsp Butter

Handful of fresh parsley. Roughly chopped 
Directions 
Preheat the oven to 400 degrees Fahrenheit.
Cook the frozen spinach according to the package instructions. Once cooked, strain or squeeze out any excess liquid and return it to the pot.
In the same pot, combine the cooked spinach and softened cream cheese.
Add garlic, salt, onion powder, chili powder, pepper, Italian seasoning, parmesan cheese and of course, the smoked salmon. Mix well to combine.
This is where things get fun! Roll out your pizza dough into your desired shape (square, for example).
Prepare two equal-sized squares of dough.
Spread the smoked salmon, spinach, and cream cheese mixture evenly on one of the dough squares, covering it completely.
Place the remaining dough square on top of the other, aligning the corners and press the corners of each square dough together using your fingers.
Use a pizza cutter to cut the dough into breadstick-sized pieces* but be careful not to fully break them apart. The pieces should still be attached in some way. Check out the photo to see the pattern we created. 
Twist each individual breadstick in the same direction until you're satisfied with the shape.
Bake for approximately 20 minutes until the top is golden brown and the bottom is cooked through.
Melt the butter and stir in garlic. Brush this mixture over the breadsticks.
Sprinkle with parsley.
Serve warm and enjoy!
Notes: 
* If you are not a huge fan of garlic, sub garlic cloves for garlic powder.
*You can cut these breadsticks in many different patterns. Straight up and down is the most simple, and does produce larger breadsticks. If you are making this a party appetizer, we suggest making them smaller. You'll have to get a little more creative, but it's fun!