Gluten Free Spicy Salmon Sushi Muffins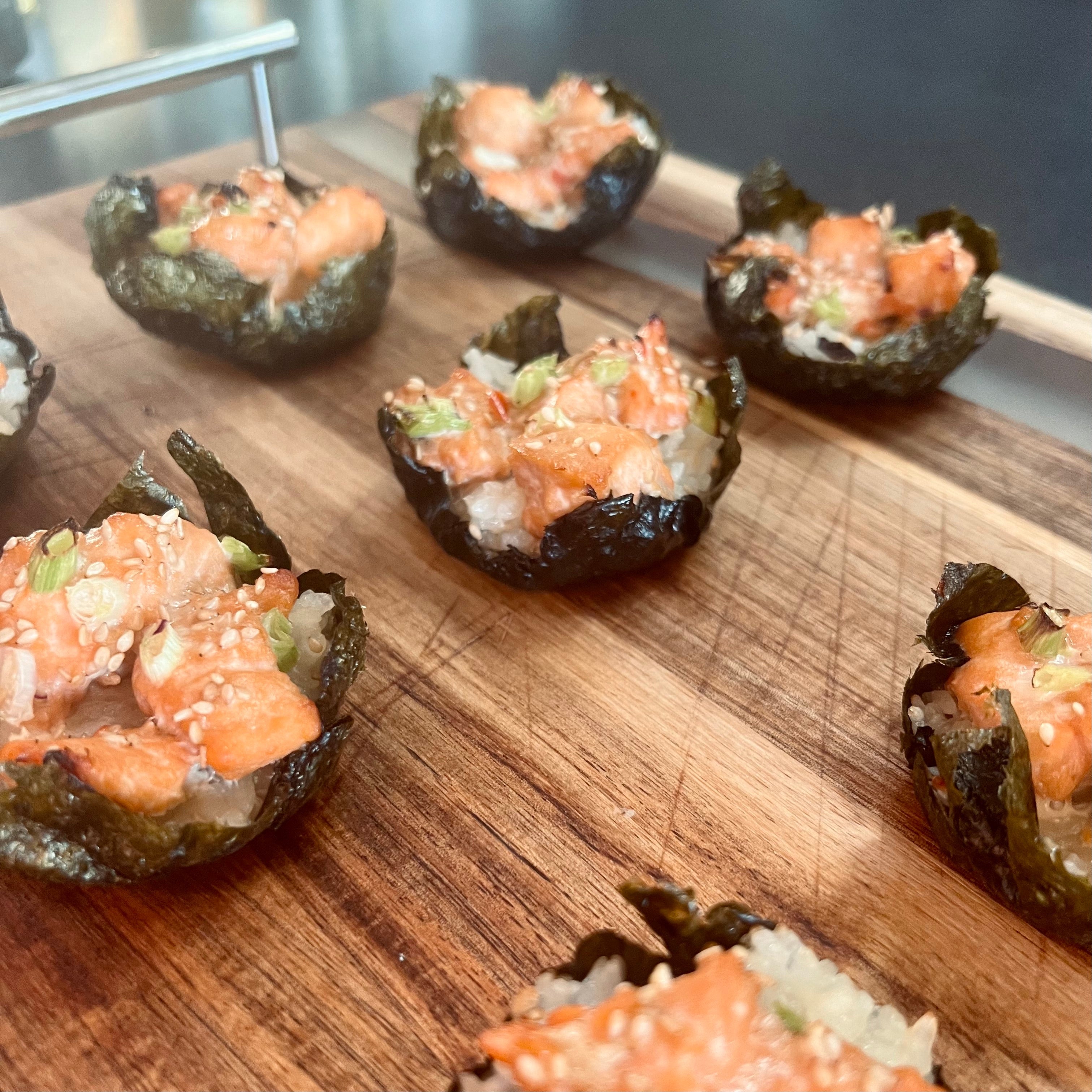 Servings: 12 sushi muffins
If you're a sushi lover looking to add a creative twist to your culinary adventures, look no further! Our Spicy Salmon Sushi Muffins recipe is the perfect fusion of traditional Japanese sushi and the whimsy of muffin-shaped treats. Not only are they incredibly delicious, but they're also gluten-free, making them accessible to a wider range of taste buds. These delectable bites combine succulent cubes of marinated salmon, perfectly cooked sushi rice, and a zesty spicy mayo drizzle, all encased in individual, muffin-like parcels. The result? A delightful culinary experience that's as visually appealing as it is mouthwatering. These will undoubtedly become a new favorite! 
Ingredients:
For the Spicy Salmon:
1 lb salmon, skin removed and cubed small
2 tablespoons sesame oil
1 tablespoon coconut aminos
1 tablespoon tamari
1 tablespoon honey
1 tablespoon sweet chili sauce
2 scallions, diced
For the Spicy Mayo:
1/4 cup mayonnaise
2 teaspoons Sriracha sauce (adjust to taste for desired spiciness)
1 teaspoon crushed garlic
Salt and pepper to taste
For Assembly:
3 sheets nori paper
1 1/2 cups cooked sushi rice, cooled
2 teaspoons furikake seasoning or toasted sesame seeds (for toppings)

Instructions:
Prepare the Spicy Salmon:
In a bowl, combine the sesame oil, coconut aminos, tamari, honey, sweet chili sauce, and diced scallions. Mix well to create the marinade.
Add the cubed salmon to the marinade and toss to coat. Let it marinate for about 30 minutes – 4 hours, allowing the flavors to infuse.
Cook the Sushi Rice:
Follow the package instructions to prepare sushi rice. Once cooked, let it cool to room temperature or slightly warm.
Assemble the Sushi Muffins:
Preheat your oven to 400 degrees Fahrenheit (220 degrees Celsius).
Lay out the nori sheets and cut each into 4 equal squares.
To each nori square, add about 1 heaping tablespoon of rice and spread it out slightly.
Transfer the nori square to a muffin slot, pushing down gently to center the rice in the middle with the edges coming up along the sides of the slot.
Add 3-4 pieces of marinated spicy salmon cubes to each muffin slot.
Bake the Sushi Muffins:
Place the muffin pan in the preheated oven and bake for 15 minutes at 400 degrees Fahrenheit, 
If desired, broil for an additional 1-2 minutes at the end to achieve a slightly caramelized appearance on the salmon.
The good part:
Carefully remove the sushi muffins from the muffin slots using a fork or small spatula.
Drizzle a generous amount of spicy mayo over the salmon.
Sprinkle furikake seasoning or toasted sesame seeds over the top for added flavor.
Serve your homemade Spicy Salmon Sushi Muffins hot and enjoy!