Seafood Pizza - A Family Favorite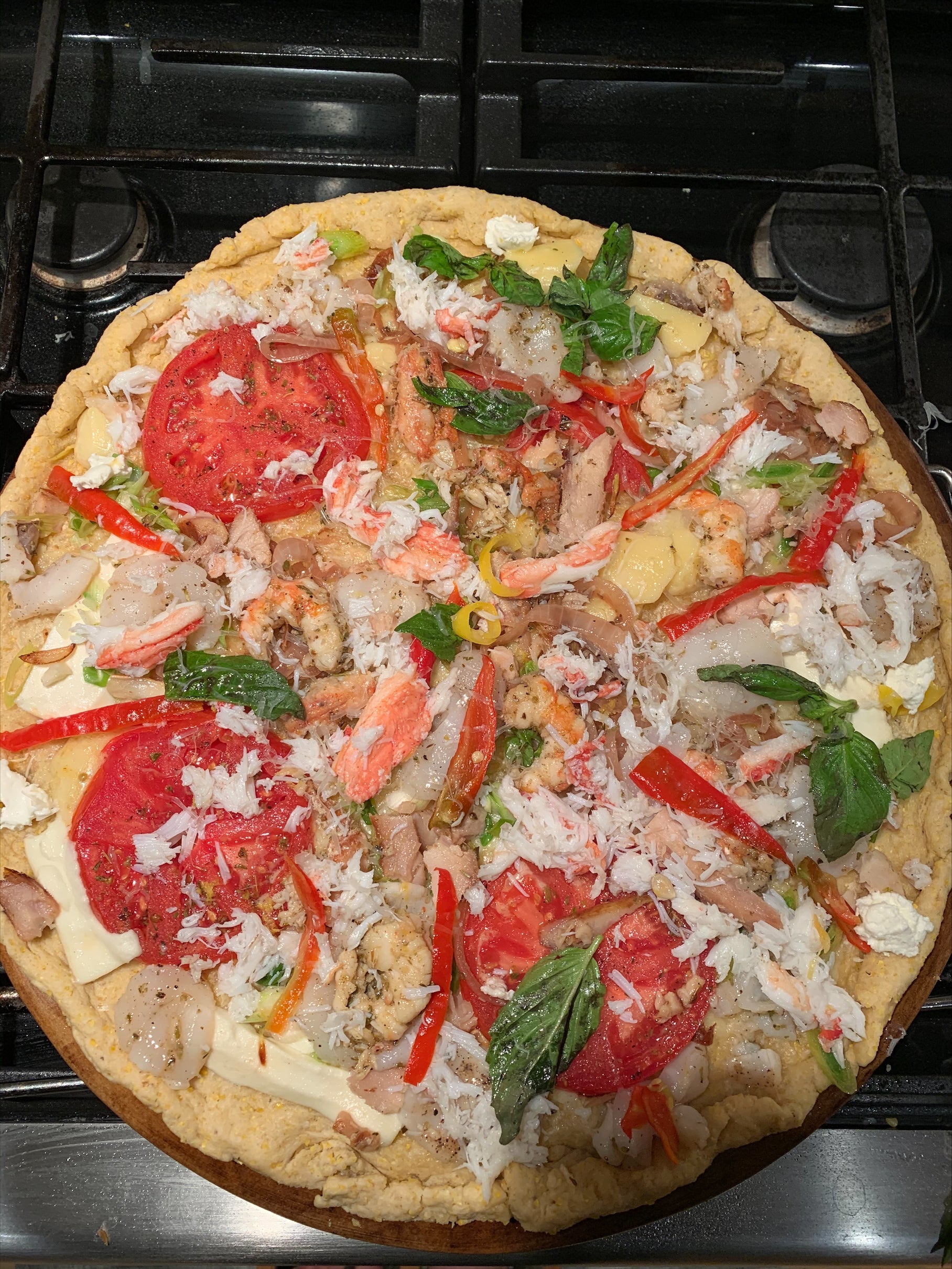 We combined two of our favorite things to bring you one amazing dish! For our fishing family you can't find a better comfort food than a seafood pizza. This recipe is so versatile – seriously use what you have at home! It's an easy and cheesy, yet elegant and extravagant. We can't wait for you to try it!
Ingredients:
Your favorite pizza dough*
Drizzle of olive oil
2 cups of grated Gruyère cheese
1/2 cup of grated Parmesan cheese – divided into 2 equal parts
1/2 lb scallops cut into bite size pieces
6-8 oz (1 package) of Seabolts smoked fish.
10 prawns - peeled
5-6 garlic cloves (or to taste) minced or pressed
2 fresh tomatoes sliced thin
1 tbsp of grated lemon zest
Dash of pepper 
Handful of fresh herbs …chives, basil or parsley – whatever you have handy
 Optional
Tomato Sauce
Red Pepper flakes
Directions:
There is no need to precook the prawns or scallops. However, if desired, you can sear the prawns first*
Preheat oven to 425-450°F. Place your pizza stone or tray into the oven to preheat.
Prepare the dough according to the instructions on the package (or recipe if you are making homemade). ­Once laid out, prick the dough all over with a fork and brush lightly with olive oil.
Top with Gruyère cheese leaving a border around the edge. *
Transfer the pizza to your preheated baking surface and bake for about 6 minutes.
Remove from oven and top with tomatoes slices, seafood, garlic, lemon zest and sprinkle with 1/4 cup Parmesan cheese, pepper and fresh herbs.
Return the pizza to oven and bake until cooked and the crust is golden. About 4 minutes.
Remove from the oven and sprinkle with remaining 1/4 cup parmesan cheese and herbs 
Serve immediately 
Notes:
A cornmeal-based dough works well with seafood.
Be creative with the use of seafood! Just note, if you are using another kind of seafood like clams, mussels or crab, you will want to precook those and place them on your pizza in the last 3 minutes of baking.
If you are using tomato sauce, spoon on dough before the cheese
Be creative add or use other seafoods…clams, mussels, crab, smoked fish.