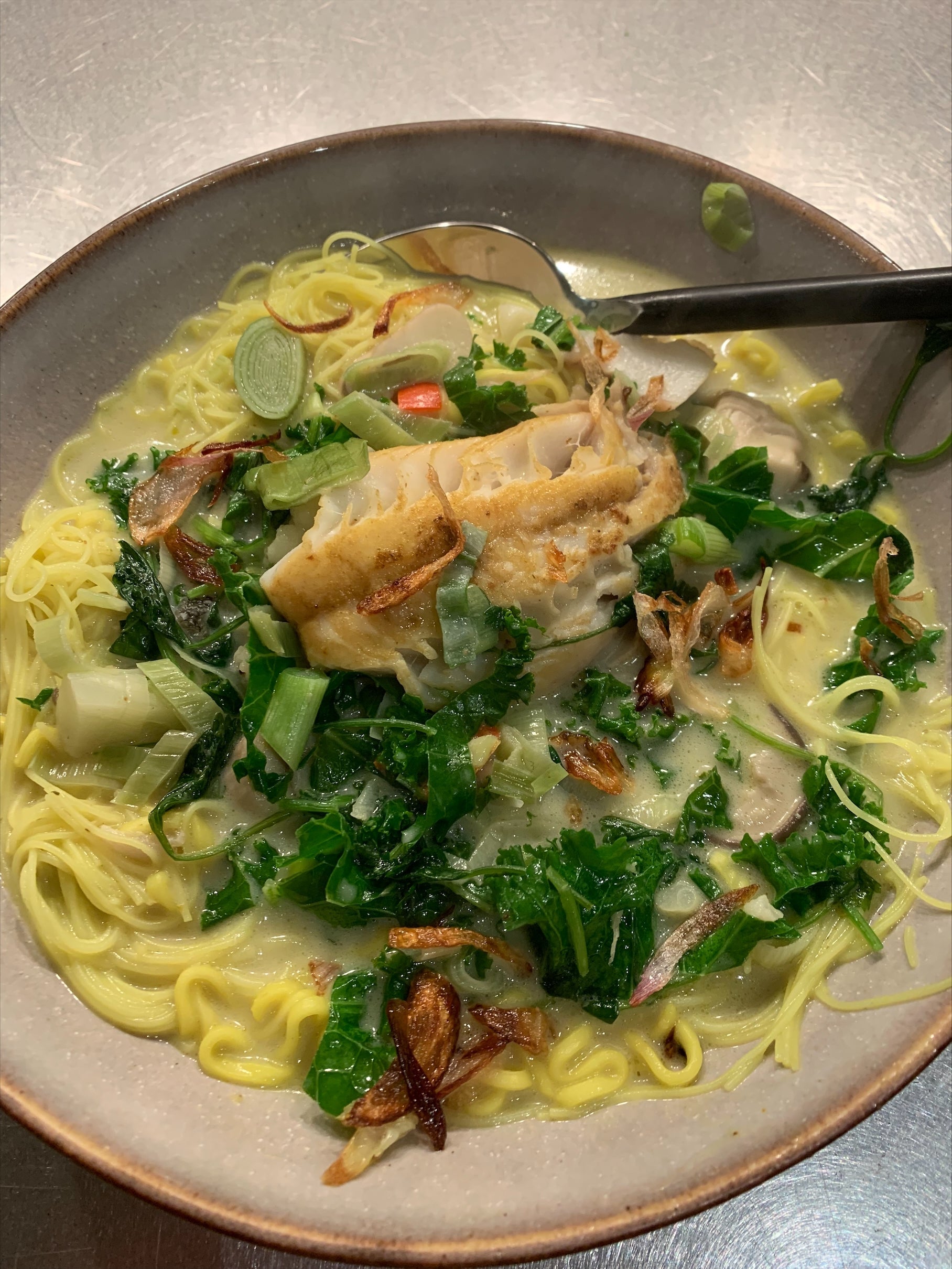 PREP TIME:
0 HOURS 40 MINS
TOTAL TIME:
0 HOURS 40 MINS
Ingredients:
1.25 lbs fish skin off cut into 1 inch pieces
1 tbsp olive oil
1 small onion thinly sliced
1 bell pepper (any color) stems seeds removed cut into small pieces
2 tbsp chopped cilantro stems plus
1 tbsp minced ginger root
1/2 cup chopped kale
1/2 cup thin sliced leeks
2 tbsp green curry paste
2 tbsp rice vinegar
1 can light coconut milk
8 ounces stock (fish, clam, or shrimp)

salt and pepper to taste

Cooked rice or cooked thin rice noodles for serving
Optional:
1 Thai chili seeds removed thinly sliced for garnish
1/4 cup fried shallots for garnish(optional)
1/2 cup cilantro leaves for serving
Directions:
Heat oil in a large deep skillet. Add onions, pepper, kale, leeks, ginger, and cilantro stems.
Cook, stirring occasionally, until tender (12-15 mis).
Add curry paste and cook until fragrant (about 1 min). Add vinegar and boil until most of it is evaporated.
Add coconut milk and stock. Set it to a simmer.
Prepare fish by seasoning with salt and pepper.
Place the fish into the same skillet, remain at simmer, stirring gently a few times, until fish is just cooked through but not falling apart (about 4 mins).
Serve in bowls over rice or noodles.
*Optional: Garnish with cilantro, chilies and shallots
*You can cook the fish separately and then +/-10 mins before serving incorporate that in your soup.