Zesty Lemon & Garlic Pan-Seared Halibut Cheeks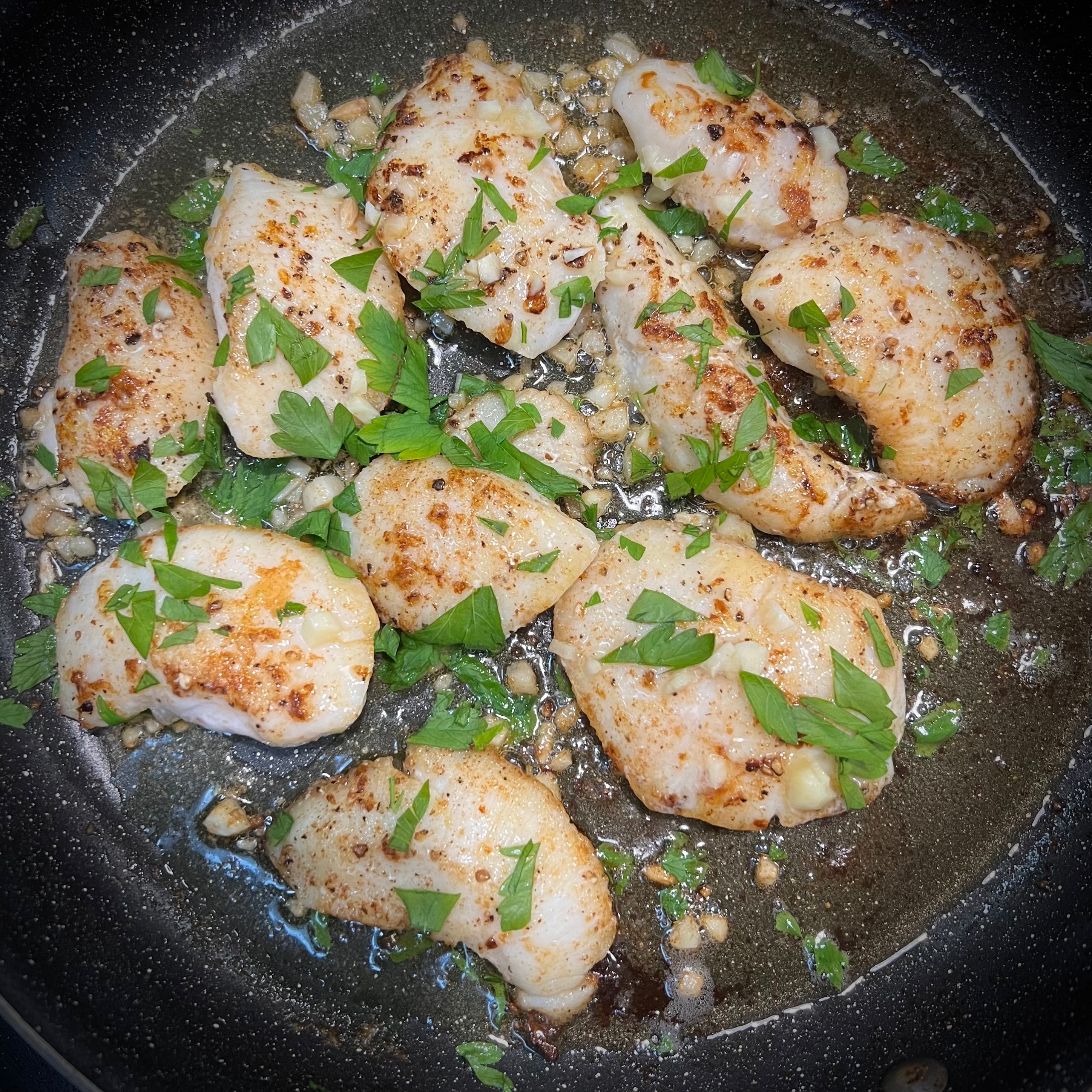 Ready in 15 minutes | Serving Size: 2 People
While salmon, shrimp, and halibut are seafood staples for many, there's a lesser-known treasure hiding in the depths of the ocean: halibut cheeks. These delectable morsels are often overlooked but deserve a place in your kitchen. Once you try them, you'll be hooked! Today, we're bringing you a simple yet sensational recipe for Pan-Seared Halibut Cheeks - a simple, approachable dish, even if it's your first-time cooking with cheeks. Taking just under 15 minutes to prepare, these can effortlessly become a part of your weeknight menu or serve as a scrumptious addition to your weekend dining. Not only are they a packed with flavor, but they also offer a tender, light, and healthy option suitable for any occasion.
Ingredients:
1 pound halibut cheeks
2 tablespoons olive oil
4-6 garlic cloves
2-3 tablespoons unsalted butter*
1 lemon, zest and juice
Salt and pepper to taste
Fresh parsley, chopped for garnish
Directions:
Begin by patting the halibut cheeks dry with paper towels. Season them generously with salt, pepper, and the zest of a lemon.
In a skillet over medium-high heat, add the olive oil. As it heats up, it's time to introduce the star of our dish – the halibut cheeks.
Carefully place the halibut cheeks in the skillet and let them sizzle away for about 2-3 minutes.* After flipping the halibut cheeks for the first time, add the unsalted butter to the skillet. Spoon the melted butter over the cheeks as they continue to cook (another 2-3 minutes).
Once the halibut cheeks are just about fully cooked, toss in the minced garlic for about a minute, allowing it to infuse its flavor into the butter.
Right after you add the garlic, squeeze fresh lemon juice over the cooked halibut cheeks.
Sprinkle the dish with freshly chopped parsley for a pop of color and a burst of freshness.
Plate your pan-seared halibut cheeks alongside your favorite side dishes. Steamed vegetables, your favorite potatoes or a simple salad make excellent companions.
Special Notes:
You can used salted butter too – just use what you have and don't stress!

Keep a watchful eye when cooking your halibut cheeks; you'll know they're done when they turn a beautiful opaque white and flake easily with a fork. Cooking time depends on the thickness and size of the cheeks.