Whidbey Seafoods Gluten-Free Salmon Crab Cakes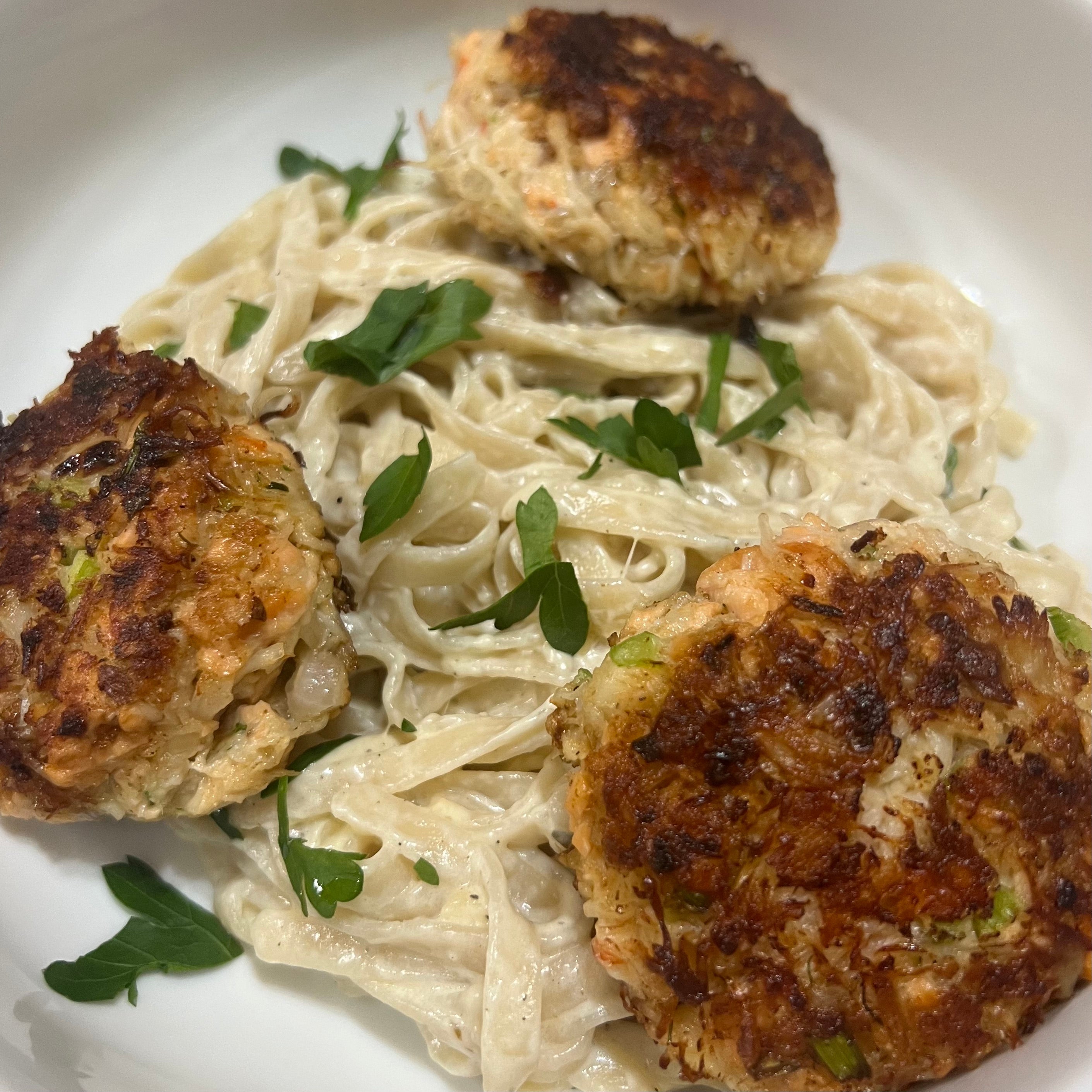 Looking for a creative and delicious way to use up that leftover salmon? These Gluten-Free Salmon and Bairdi Crab Cakes are the perfect solution! With a flavorful blend of seasoned salmon, Bairdi crab meat, and a medley of herbs and spices, these crab cakes are not only a fantastic way to repurpose your leftover fish but also make a mouthwatering appetizer or impressive main course. Plus, the gluten-free twist makes it an inclusive option for everyone at the table. Say goodbye to boring leftovers and hello to a tasty treat that's both easy to make and a crowd-pleaser!
Ingredients: 
8 oz Bairdi crab meat
8 oz leftover cooked salmon
1 teaspoon Old Bay seasoning
2-4 cloves garlic, minced
Juice of 1 lemon
1 tablespoon fresh dill, chopped
1/2 cup gluten-free Panko bread crumbs
1/4 cup gluten-free cauliflower crumbs (if available - sub for another other breadcrumb of your choice)
1/4 cup celery, finely chopped
2 tablespoons Dijon mustard
1 small shallot, finely chopped
1/4 cup mayonnaise
Salt and pepper to taste
3 tablespoons olive oil for frying
Instructions:
In a mixing bowl, combine leftover salmon, Bairdi crab meat, Old Bay seasoning, minced garlic, lemon juice, chopped dill, gluten-free Panko bread crumbs, gluten-free cauliflower crumbs, finely chopped celery, Dijon mustard, chopped shallot, and mayonnaise.
Adjust seasoning with salt and pepper as needed.
Shape the mixture into individual patties and place them on a plate.
Cover with plastic wrap and refrigerate for at least 30 minutes to firm up.
Heat olive oil in a skillet over medium-high heat.
Carefully add the crab cakes and cook until golden brown and crispy on both sides, about 3-4 minutes per side.
Remove from the skillet and place on a paper towel-lined plate to absorb excess oil.
Serve hot with your favorite dipping sauce or side dish. Enjoy!
*In our featured images, we paired our cakes with a simple yet delicious pasta al limone. For a variety of delightful recipes, a quick online search will yield numerous options. Stick to the basics and enjoy the flavors!
*Not feeling pasta but need a sauce? We got you covered! Check out our versatile seafood sauces!